Lost and found edges in impressionist watercolor painting of a restaurant interior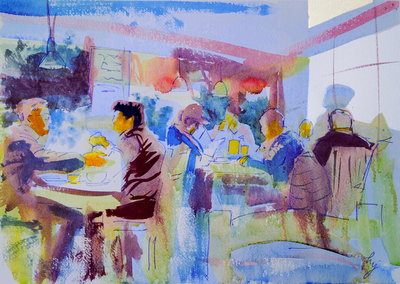 'This place is really popular' - check out the finished watercolor painting of this restaurant interior here:
https://mike-jory.pixels.com/featured/restaurant-painting-loose-impressionist-watercolor-watercolour-painting-mike-jory.html

In this week's Sunday Art Show, I take you through a real-time demo of how to use watercolour to create a loose and lively restaurant interior painting. Watercolor is applied in fluid washes taking account of the big shapes in the scene, working from light to dark. As these washes mingle, colour mixing effects and naturally occurring edges are created. Once dry, a ball point pen is used to add defining line work in key areas. Some areas are deliberately left untouched. Then, more opaque watercolor paint is added to enhance the contrast and some detail here and there to create and energetic impressionist scene fully of the buzz of a busy lunch time.
Materials used: A3 The Langton watercolour paper, synthetic brushes, Winsor and Newton professional watercolours: Alizarin Crimson, French Ultrmarine Blue, Cadmium Yellow Light, Burnt Umber, Neutral Tint and a blue biro.